Looking Glass & The Dreamers
$9.95 – $14.95
CD ©2020 Road Canon Music
Produced by Danny O'Keefe & Gary Ogan
Click titles for lyrics
The Nez Perce Are Coming
Description
Imaginative productions and performances by outstanding players and singers bring twelve new songs to life. They tell the tragic history of the Nez Perce Dreamers — and more, they become a mirror of the current state of affairs and the "American Dream."
Looking Glass & The Dreamers is the culmination of Danny O'Keefe's years of historical research, first-hand exploration, and emotional turmoil spent unraveling the tragic story of the Nez Perce Native Americans and how they lost their homeland in present-day Oregon and Idaho. Along the way the project grew and melded into a collection of compelling narratives, historical photographs and the twelve captivating songs that make up the package.
Danny writes – It all began as a dream. I was trying to write a song using metaphors or twists on the allegories of Alice à la Through the Looking Glass. Unable to connect the allegories in any meaningful way, I drifted into sleep and dream. As I was waking to the room, I was given the words: "Looking Glass in Oregon one night had a dream. Of soldiers slowly riding in a solemn, endless stream." And that's how it began. A mirror was being held up to me … and a lens.
Producer: Danny O'Keefe & Gary Ogan
Engineer / Mastering: Garey Shelton
Engineer: Gary Ogan
Album Design: Marlin Greene
Guitar / Vocals: Danny O'Keefe
Vocals: Quiltman
Guitar / Keyboards / Bass / Flute: Gary Ogan
Bass: Garey Shelton
Drum / Vocals: Milton Sahme
English Horn: Nancy Rumbel
Violin: Beth Chandler
Backing Vocals: Lena Bundy, Julia Keefe, Gary Ogan
Streaming
Also Available: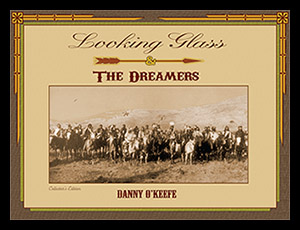 Download the complete 131 page companion book, featuring the tragic story of Looking Glass & The Dreamers. Click here for more information.